Sorry – something was up with my pictures – hope you can see them now!
Look what I purchased a few weeks ago that came while I was on vacation (I came home to 4 packages – love that!) – – super cute!! Those are my 4 kiddos – –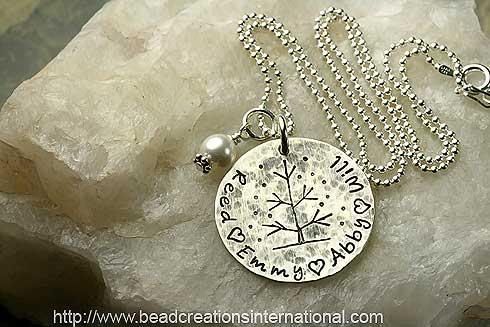 Me wearing it (I'm not the best at pictures-of-myself-in-the-mirror, so it's not the best shot of the necklace – oh well!)
I bought my necklace through Bead Creations International – here's a sample of other products they offer:
I've already worn it several times, and I've only had it a week – that probably tells you how much I like it. Anyways, I wanted to do this quick post this afternoon because Bead Creations International is having a ONE DAY SALE TODAY and I didn't want you to miss out. Here's the info from their newsletter:
We are having a one day Free Crystal/Pearl Dangle Sale (no silver charms) tomorrow Friday March 25th. This will save you from $2.00 – $12.00 per necklace depending on what necklace you purchase. It is a great deal to get your Mother's Day orders in early for yourself, Mothers, Mothers in Law, Grandma's, Daughters etc…. We will not be offering any other sales until probably the Summer time after this one. If you purchase a necklaces that does not have a crystal/pearl dangle then you can receive a Free Polish Cloth with your order you can only receive the dangles or polish cloth with each necklace ordered. For this sale I do not have a coupon code that would work for it so you will have to pay with a credit card and not Paypal if you do pay with Paypal I will not send you back the money you would have saved. Paying with a credit card I can take off the amount before I process your credit card. If you want to order and want to pay with Paypal please contact me first and I can set up a custom order for you. When you order please put in the "Notes Section": Free Dangles or Free Polish Cloth if this is not added on your order you will not get the sale price it must be added when ordering.
Thanks for checking out this post from www.SugarBeeCrafts.com – – click on over to read it in its entirety – you'll love it!