I just can't stay away from my blog - - sorry to interrupt Guest Posting Extravaganza again, but this is soooo worth it - -I was sent this from the fabulous people over at
Silhouette and I get to show off the new CAMEO
for you - wahoo!
So, things I LOVE
It's awesome.
a HUGE cutting area - it can load a whole 12x12 sheet of paper.
SD card slot - I know!! so if you want to load a few things onto your card, then take the Cameo to a craft night with friends, you don't need your computer at all - this is a GREAT feature!
as before, you can use any images from your computer and more importantly, any fonts!! (you know how many free fonts are out there - my font file is already out of control, yet I need more!)
kind of along those lines, no cartridges, etc - it's all via your computer
easy loading of paper/vinyl
it's awesome.
What to make first - the ultimate question.........I went with a mini laundry room makeover, all inspired by pinterest.
First up, do you see how many things I could fit onto my 1x2ft piece of vinyl - I loaded that baby up! No wasted space - all cut at once - awesome:
My laundry room is right off my front entry, so I went with yellow to kind of pull in the colors from my
Frame Wall
...(view as you walk in)
Turn left to see the Laundry Room - here's the layout and the door:
I am a geek and love all "witty" type of sayings - "Loads of Fun" - that's so funny to me!
Etsy Shop Janey Mac
- so if you don't have a cutter, head over and buy hers: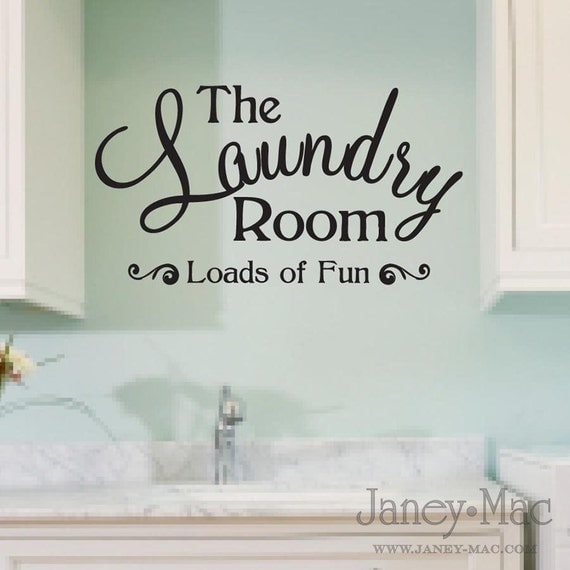 So what did I do with all that other stuff I cut --- brought the washer and dryer to a whole new level of fabulousness!
Belle Maison
showcasing it:
I love how it looks when I walk by! The neighbor girl just asked if we got a new washing machine. So if you think you need a new washing machine, maybe vinyl stickers will do the trick...View backed up a ways:
CAMEO
!!
And guess what - I got an INSIDE SCOOP - the word is that
Silhouette
will be running an awesome discount on Black Friday - in addition to that, you can still use my promo code (SUGARBEE) - love double-stacking deasl!! What a great time to get yourself the present of your dreams (I can't be the only one that buys myself presents)...
And here's links to other projects I've done with my Silhouette, in case you want to view more fabulousness: