This is a Sponsored post written by me on behalf of Walmart for SocialSpark. All opinions are 100% mine.
Have you heard of the 12 Days of Giving??  It's this great program this year from Walmart – – I love Walmart and I especially love all that they do for communities, like this program: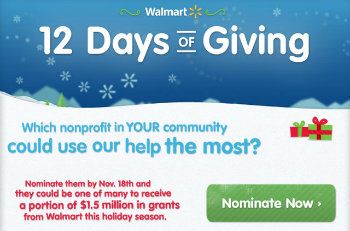 Starting now (well, Nov 1st, but that passed) through Nov 18th, you can nominate a local nonprofit organization – I just nominated one!  Then on December 10th Walmart will start the 12 Days of Giving by announcing those that won funding.
The process to nominate an organization was super easy and fast – just took me a couple of minutes.  You need to know the Non Profit name and its contact info, along with their website.  You can include a picture if you want but you do not have to if you don't have a picture to share.
On the 12 Days of Giving Walmart page you can see picutres of organizations that won last year, along with a video about how one of the organization is able to help the seniors in their community because of the funding from the grant.  I love short, powerful videos. Such a great program!
So I'm here today encouraging you to nominate an organization from your community – someone is going to win, so wouldn't it be great if it was an organization that you know and love?!  I am curious to know about which organizations you love – for fun, be sure to come back here and leave a comment naming the organization that you nominated.  Can't wait to hear all about them!
Thanks for checking out this post from www.SugarBeeCrafts.com – – click on over to read it in its entirety – you'll love it!